Rarely do I post about something not totally beauty related, but I think that this handbag qualifies. Tough a completely different category, you will see what I mean and why I am loving it so much in a minute.
From Betsey Johnson's Betseyville collection is her Glamour Girl large tote. Is this cute or what?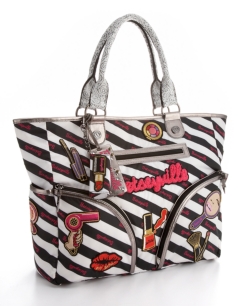 So, I think I have to have this. Not for an everyday handbag, but it looks to be great for traveling, or maybe even as a tote for the beach. Come to think of it, wouldn't this be cute as a collection with different sized cosmetics bags?

This Betsey Johnson Betseyville Glamour Girl Tote is available in either the white background, as well as purple and red, at Macy's for $110.
Cute, cute, cute!