March 12, 2008
|
written by
Teri Cosenzi, Editor
|
2 Comments
|
Rarely do I post about something not totally beauty related, but I think that this handbag qualifies. Tough a completely different category, you will see what I mean and why I am loving it so much in a minute.
From Betsey Johnson's Betseyville collection is her Glamour Girl large tote. Is this cute or what?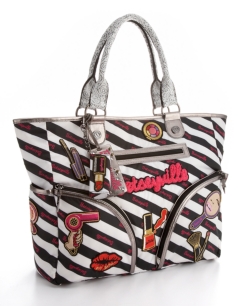 So, I think I have to have this. Not for an everyday handbag, but it looks to be great for traveling, or maybe even as a tote for the beach. Come to think of it, wouldn't this be cute as a collection with different sized cosmetics bags?

This Betsey Johnson Betseyville Glamour Girl Tote is available in either the white background, as well as purple and red, at Macy's for $110.
Cute, cute, cute!
Categories:
Beauty
A press sample of the product featured may have been provided by brand or brand representative for editorial consideration. All opinions are my own. Affiliate links may have also been used in the post. Please see disclosure policy for complete information.
For all the latest beauty buzz, follow us on Twitter, Facebook, Instagram and Pinterest.
Copyright © 2001 - 2015 Beautiful Makeup Search.